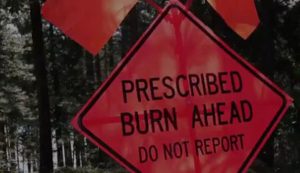 Prescribed burn sign

View Photo
Tuolumne, CA — CAL Fire plans to take advantage of Mother Nature providing cooler temperatures, allowing for a prescribed burn to beef up fire prevention in Tuolumne.
CAL Fire Twain Harte Battalion Chief Lauren Monsen relays that crews will burn a portion of one of their strategic fuel brakes called the Mt. Havalia Vegetation Management Plan (, which runs along a ridge. He explains the goal, "This is to create a buffer between Tuolumne from the north Fork of the Tuolumne River Canyon if a fire is established in there."
The ignition site is at the end of Laurel Lane in Tuolumne where approximately 25 acres will be set ablaze over the next several days, weather, fuels and air quality permitting. Battalion Chief Monsen adds, "We're planning on ignition taking a couple of hours and then engine crews will be out there for the majority of the night, making sure that the fuels consumed."
The burn will be ignited at around 5 p.m., sometime between July 8-10, and residents will see smoke in the skies. "Folks could also possibly be seeing a glow due to the fact that it's on a ridge top and it's fairly exposed," shares Battalion Chief Monsen.
Fire protection measures will include four engines and five overhead personnel. The hope is to complete the burn in one night with the additional days set aside just in case more time is needed. The public is asked not to call this in as a wildland fire.