Biggest Quake In 20 Years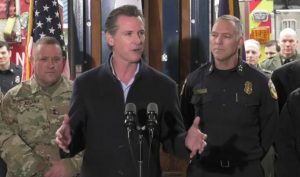 Governor Gavin Newsom in Colfax announcing wildfire funding

View Photo
Sonora, CA — Clarke Broadcasting received calls from several residents in the Mother Lode, stretching from Sonora, Columbia, Murphys to Arnold, who reported feeling the shaking from the biggest tremor in 20 years.
A magnitude 7.1 earthquake, the second major temblor in as many days to rock Southern California, has left small communities in the Mojave Desert reeling. Friday night's shaker was centered near the town of Ridgecrest, where a 6.4-magnitude quake hit on Independence Day. It could be felt 150 miles away in downtown Los Angeles where offices in skyscrapers rolled and rocked for at least 30 seconds.
Governor Gavin Newsom has activated the state Office of Emergency Services operations center "to its highest level" and has requested that President Donald Trump issue an emergency declaration, allowing the state to receive federal aid. The entire declaration can be found here.
Seismologists warned that large aftershocks were expected to continue for days or weeks. Lucy Jones, a seismologist at the California Institute of Technology qualifies that stating that there is
about a 1-in-10 chance that another 7.0 quake could hit within the next week. She adds that the chance of a 5.0-magnitude quake "is approaching certainty" and that aftershocks could happen for years. However, noting that the gigantic San Andreas Fault is far away she notes that the quake was unlikely to affect fault lines outside of the area.
California is teaming up with the federal government to build a statewide earthquake warning system, which is anticipated to be up and running by June 2021. The state has already spent at least $25 million building it, including installing hundreds of seismic stations throughout the state. Newsom needs $16.3 million to finish the project, which includes money for stations to monitor seismic activity, plus nearly $7 million for "outreach and education." The legislature has approved the funding and last month Newsom signed it into law.