Chase And DUI Arrest In Tuolumne County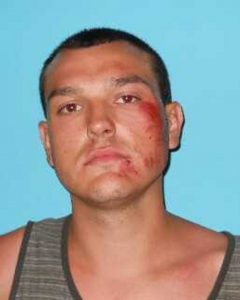 Chance Bailey

View Photos
Sonora, CA – A Tuolumne man lead law enforcement officials on a chase from Sonora to Tuolumne where it ended in a crash.
A red 1991 Toyota pickup doing a burnout around 11 p.m. at the intersection of S. Washington Street and Stockton Road in Sonora got the attention of a police officer. When attempting to pull over the driver, 22-year-old Chance Bailey of Tuolumne, he took off and the officer pursued. While on the backroads of Sonora, Police Chief Turu VanderWiel says Bailey tried to pull a fast one, "At one point, Mr. Bailey attempted to blackout [turn off the vehicle lights] and hide in a driveway off of Morningstar Drive. When the officer spotted him and attempted to make contact, Bailey sped off and almost struck the officer's patrol car."
When Baily turned from Mono Way onto Tuolumne Road, Chief VanderWiel relays the chase was turned over to Tuolumne County Sheriff's Deputies and CHP officers. The pursuit continued for another nearly 12 miles as sheriff's spokesperson Sgt. Andrea Benson reports that Bailey drove through several neighboring yards as he tried to make it back to his home in the 20000 block of Hani Drive in Tuolumne. The chase ended with Bailey ramming a sheriff's vehicle head-on, according to Sgt. Benson, who adds, "Luckily, the deputy suffered only minor injuries."
Bailey bond is set at $50,000 as he faces felony charges of obstructing and evading a Peace officer, assault with a deadly weapon and DUI. Sgt. Benson notes that a breathalyzer taken at the jail several hours later resulted in a .097 level, which is above the legal limit of .08.