Medicinal Cannabis Shop Proposed At Former Tuolumne Foundry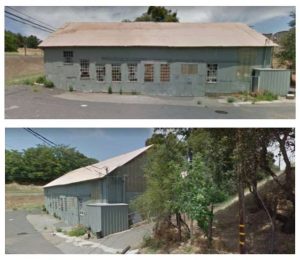 Former Tuolumne Foundry Site

View Photo
Sonora, CA — This coming Monday the Sonora Planning Commission will review a proposal to turn the former Tuolumne Foundry site into a medical marijuana dispensary.
The location, at 10 Calaveras Street, housed the Tuolumne Foundry between 1900 – 1940, and most recently was used as a consignment shop. On the planning commission's agenda is a request for a use permit, and a development agreement between the city and the applicant, the Bract House, for the dispensary. The property fits into the city's rules for medical marijuana dispensaries, as it is zoned Light Manufacturing and over 600 feet from a school, daycare, church or park.
The city does not allow recreational marijuana sales, so the business would be limited to medical sales. The city approved a similar agreement late last year with the company Hazy Bulldog Farms for its dispensary at 1243 Mono Way.
Bract House must pay the city a "public benefit fee" of no less than $10,000, or 5-percent of its gross receipts, on a monthly basis. It would also be subject to security protocols, including having security cameras and an alarm system.
Monday's planning commission meeting will start at 5:30pm at Sonora City Hall.