800 CCWD Rancho Calaveras Customers Get 'Boil Water' Notices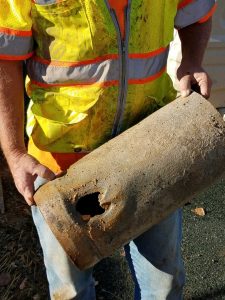 Rancho Calaveras pipe issue July 2 2019 that forced a boil water notice CCWD Photo

View Photos
San Andreas, CA – A Mother Lode community must boil or disinfect their water before using it at least for another day.
Calaveras County Water District (CCWD) issued a boil water notice Monday morning to about 800 customers in Rancho Calaveras who experienced a water service outage, due to a large leak in an 8-inch water-service transmission line.
The pipe failure, located at the corner of Baldwin Street and Usher Drive, occurred in the early hours Monday and crews repaired it by 9 a.m., according to district officials.
Even though the first round of water testing came back negative for harmful bacteria, the boil water notice remains in effect until the second round tests, expected to come back Wednesday, are complete and give clearance.
Officials share that they heard concerns among CCWD customers in Rancho Calaveras about fears of water supply contamination and that they issued the boil water notice out of an abundance of caution following what they describe as a major leak repair.
CCWD adds that while it is highly unlikely that anything harmful entered the water supply, the state requires water suppliers to issue boil water notices when water pressure drops below a certain level. Once precautionary testing is done and comes back without negative results on two consecutive days, the district will be able to lift the notice.
Staff was personally posting notices on impacted customers' doors that contain instructions for properly boiling and/or disinfecting water among other safety precautions. To view a map of the impacted area, click into the image box slideshow.