Design Approved For Tuolumne War On Terrorism Memorial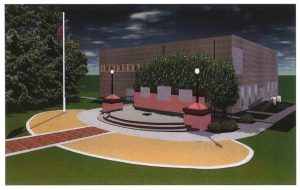 War on Terrorism Memorial - Artist Rendering

View Photo
Tuolumne, CA — Over the past several years the Veterans of Foreign Wars Post 4748 has been developing plans for a War on Terrorism Memorial on the east lawn of the Tuolumne Veterans Hall.
The efforts received a boost of momentum this past year when Summerville High School student Candace Olsen helped raise $72,000 in funding for the project. The supervisors voted 5-0 to approve the final design today, so that supporters can move forward and acquire the needed building permits.
Supporter Frank Smart noted that the memorial is not only in recognition of veterans, but also law enforcement and emergency responders.
The project will also include a time capsule that will focus on the "Fabric of Life" in Tuolumne County, and it will be opened on Saturday, July 4, 2076. An official groundbreaking for the memorial is scheduled for July 14 at 3pm.