Calaveras Grand Jury Reviews College District, Animal Control And Jail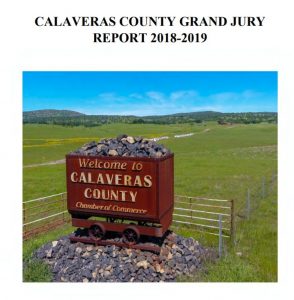 Calaveras County Grand Jury Report

View Photo
San Andreas, CA — The 2018-19 Calaveras County Grand Jury Report has been released, and it is critical of various aspects of county government.
This year the jury looked into the items like Animal Control Services, the relationship with the San Joaquin Delta Community College District (SJDCD), the jail, audit and finance services, the Jenny Lind Veterans Memorial District, educational support for homeless students and code compliance.
The Grand Jury was critical of the SJDCD for implying that a foothill campus would be built as part of the Measure L Bond, but the project has since been abandoned, and there are no plans to build a campus or learning center in Calaveras County. The grand jury recommends the issue be reevaluated no later than October 1st by the community college district's board, and if no action is taken, that the county withdrawal from the SJDCD by December 31st. If the county withdraws, the entity then recommends it negotiate with the Yosemite Community College District to consolidate all of Calaveras County within it, or develop a county sponsored distance learning campus.
Related to Animal Control, the Grand Jury found that the current facility is outdated and in need of replacing. There are also insufficient personnel to keep the office open eight hours a day and five days a week. Also, a new vehicle is very much needed.
On the issue of the county jail, it finds that the facility, which opened five years ago, is clean and well maintained. However, Correctional Officers are paid $3-4 per hour less than neighboring counties like Tuolumne and Amador. It also recommends renting out unused beds to other counties as a revenue generator.
To view the entire 114 page report, click here.