Copperopolis Accident Leaves Two Injured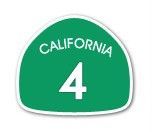 Hwy 4

View Photos
Copperopolis, CA– Two men from Stockton received minor injuries in a solo vehicle accident this morning on Highway 4, just east of Shirley Road in Copperopolis.
According to the San Andreas CHP, the driver of the 2007 VW Jetta, 33-year-old Yaqui Lopez, was having a disagreement with his passenger, 23-year-old Drew Esquivel.
Yaqui reportedly pulled his vehicle over onto the right shoulder during the argument and then drove over an embankment after his foot slipped off the brake pedal. The vehicle went down the embankment and hit several large rocks before coming to a complete stop. Both men chose to seek their own medical aid for their minimal injuries.
Written by tina.falco@mlode.com