New Details On HWY 108 Crash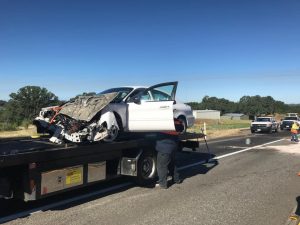 HWY 108 pileup near Peaceful Oak Drive

View Photos
Sonora, CA – The CHP is releasing new details and the names of those involved in a crash this morning on Highway 108 that involved a Big Rig and slowed traffic for several hours.
The multi-vehicle collision occurred just before 8 a.m. on Wednesday, west of Peaceful Oak Drive, as earlier reported here. The CHP reports that Thomas Wright, 69, from Knights Ferry, was driving a 2018 Kenworth semi with an attached trailer at about 40 mph eastbound on the highway when a sedan swerved into his lane. That vehicle, a 2004 Ford Taurus, was being driven by Ming Fung, 70, from Twain Harte, at about 55 miles per hour.
CHP spokesperson Steve Machado reports that due to Caltrans work on the Peaceful Oak off ramp traffic had slowed and when Fung realized it he slammed on his brakes, but lost control of his car. It smashed into the left rear axle of the trailer. Machado adds, "After the impact the trailer's axle broke and it overturned, spilling its load across both lanes of traffic. As the load was getting spilled, two other vehicles were traveling through the area and they were struck by debris. The roadway was closed for about 2 ½ hours."
Pictures in the image box show the wreckage and debris blocking the roadway, which resulted in detours for travelers. Westbound traffic was diverted to upper Mono Way while officers directed eastbound onto Peaceful Oak Drive.
Luckily, the CHP reports no injuries in the crash and do not suspect that alcohol or drugs played a role in this wreck.