Calaveras Supervisors Approve Development Fees For Fire District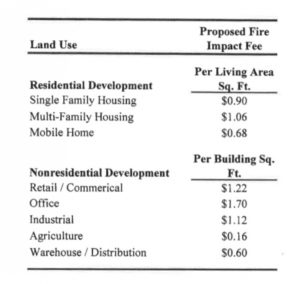 Calaveras fees placed on new development

View Photo
San Andreas, CA — The Board of Supervisors will place new fees on residential and commercial construction within the Calaveras Consolidated Fire District as a way to increase revenue for fire protection efforts.
The vote was 4-0, with board chair Jack Garamendi absent. Click on the image to view the fee structure.
The district covers roughly 163 square miles in the western portion of the county, including Valley Springs, Burson, Wallace, Campo Seco, Milton, Rancho Calaveras, La Contenta and Jenny Lind. It covers about 18,000 people and sees over 1,500 calls per year.
Officials with the district noted that they are facing a $150,000 deficit, and this a way to help meet the demand of service in new housing areas.
It was emphasized that the fee will only impact new development and not existing homes and businesses. It will be used to purchase new equipment and supplies, and will not be used to hire employees.