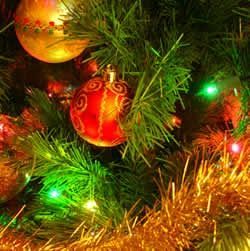 Christmas Tree Lights

View Photos
Sonora, CA– Although holiday lights can bring joy to the holiday season, they can also bring hazards and higher energy bills.
Pacific Gas And Electric (PG&E) encourages customers to keep safety and energy efficiency in mind this holiday season.
PG&E Spokesperson Nicole Liebelt recommends that people decorate with energy efficient LED holiday lights. These lights can reduce energy consumption by as much as 90 percent when compared to traditional holiday lights.
Liebelt also says it's important to make sure that lights to decorate outside the home are approved for outdoor use. Indoor lights should never be used outdoors.
For more PG&E holiday safety and energy saving tips, click here.
Written by tina.falco@mlode.com