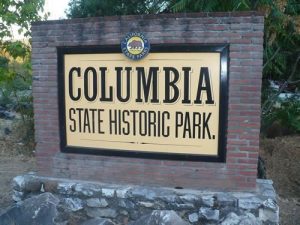 Columbia State Park - Sign

View Photos
The Mid-Valley Unit of Backcountry Horsemen of California will sponsor the annual All-Equestrian Christmas Parade at 11 a.m. this Sunday in Columbia.
Bruce DeMott, Equestrian Parade Organizer, was Friday's KVML "Newsmaker of the Day".
Spectator admission is free although donations are welcome. The entry fee for riders is an unwrapped toy.
For more information call DeMott at (209) 599-2620 or (209) 602-8529.
The parade is just a part of the several events taking place this weekend in Columbia.
Beginning tonight visitors will find Christmas carolers, storytellers and free carriage rides from 5 p.m. – 8 p.m.
"A Miners Christmas" will take place on both Saturday and Sunday from noon – 3 p.m. where chestnuts, coffee and crafts will all be well scattered throughout town.
Sunday night at 5pm is the Las Posadas nativity procession to the manger at State and Jackson. Admission is free.
The "Newsmaker of the Day" is heard each weekday morning on AM 1450 KVML at 6:47, 7:47 and 8:47am.
Written by mark@mlode.com