Tuolumne County Tops Marijuana Eradication List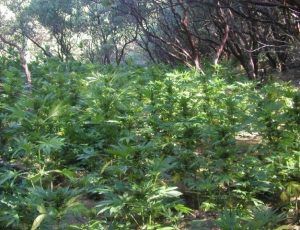 Marijuana Field

View Photos
Sonora, CA– A California anti-marijuana agency has ranked Tuolumne County number two in the state for marijuana eradication in 2010.
CAMP (Campaign Against Marijuana Planting) released a report last month showing Tuolumne County with 411,004 marijuana plants seized for the year. For California, 4,320,314 plants were eradicated in 2010, slightly less than last year's all-time record of 4,463,917. CAMP estimates the wholesale value of the destroyed crop at $17.2 billion. That figure is enough to qualify for agriculture disaster aid for any other crop. This works out to $4,000 per plant, or 1 pound per plant.
The number one California county for marijuana eradication is Mendocino with 572,680 plant seizures. Number three is Lake County with 374,958, number four is Shasta County at 325,480 and number five is Tehama County with 312,574. Calaveras County was not included in CAMP's top 10 list.
Created in 1983, the Campaign Against Marijuana Planting (CAMP) is a unique multi-agency law enforcement task force managed by the Bureau of Narcotic Enforcement and composed of local, state and federal agencies organized expressly to eradicate illegal marijuana cultivation and trafficking in California.
Written by tina.falco@mlode.com