Local Businesses, Theft Victim Help Deputies Nab Suspects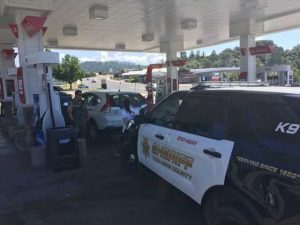 Worley and Dickens arrest June 21 2019 TCSO Photo

View Photos
Sonora, CA – A stolen wallet from a parked vehicle sparked a spending spree that landed two in jail.
According to Tuolumne County Sheriff's spokesperson Sgt. Andrea Benson, deputies recently responded to a reported vehicle burglary that occurred in Sonora at the Teleli Golf Course parking lot. The victim told deputies his wallet was missing and he was receiving alerts that someone was using one of his credit cards to make purchases at several local businesses.
The victim also shared that he contacted the businesses and from them was able to provide a description of the suspects and their Honda CRV. A short time later, a deputy located the Honda CRV at Flyers Gas Station on Mono Way in Sonora and made contact with its occupants, 31-year-old Katherine Dickens and 36-year-old Casey Worley, both of Oakdale.
Moreover, deputies located the victim's stolen wallet and credit card inside the vehicle along with property purchased with the stolen credit card, burglary tools. They also found nearly four grams of methamphetamine and drug paraphernalia.
Dickens and Worley were arrested and booked into the Tuolumne County Jail for unlawful use of a credit card, possession of burglary tools, burglary, and conspiracy. Worley is also facing charges of theft, possession of a controlled substance, possession of drug paraphernalia and had two out of county warrants for drug possession and failing to appear in court.
Benson adds that deputies returned stolen card purchased items to the businesses they came from.