Waterford Man Arrested After Gunshots Fired In Sonora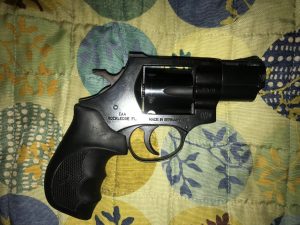 Gun Confiscated In Sonora Incident

View Photos
Sonora, CA — The Sonora Police Department responded to a dispute on Saturday evening at 9:40 across from the lower Savemart on Stockton Street.
The PD reports that a man dressed in a white t-shirt and red shorts fired a handgun four times after witnesses heard arguing. The shooter and three other people then started walking towards Washington Street.
The alleged shooter, identified as 31-year-old Joseph Tarango of Waterford, was located and arrested at the Rodeway Inn on Green Street. The PD was assisted by the Tuolumne County Sheriff's Office. The PD reports that a gun was found on the floor of the hotel room, and a witness positively identified Tarango as the man that fired it earlier. Officials learned that the shots were fired in relation to a family fight.
Tarango was booked at the county jail for a felony charge of discharging a firearm in a negligent manner. He was also found to be in possession of prescription pills without a prescription.