Angels Camp Prepares For "Big Box" Stores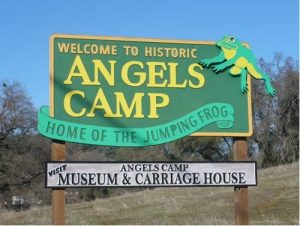 Angels Camp

View Photos
Angels Camp, CA – The Angels Camp City Council may pass an ordinance that would place restrictions on large format retail, often referred to as "big box" stores.
The Council will hold a public hearing Tuesday on an ordinance that would limit businesses to 80,000 square ft., and set guidelines for outside displays and storage. "There have been a lot of inquiries regarding large format retail up here," says David Hanham, Angels Camp Planning Director. "The City Council feels that there needs to be some type of guidelines."
The big box stores would be allowed in the Suburban Commercial Zone District of the City, which is primarily positioned near the existing Frog Jump Plaza at the Highway 4/49 intersection.
As a comparison to the City of Sonora, the new Lowe's Home Improvement Center would not be allowed in the City of Angels Camp under the proposed ordinance because it will be around 140,000 square ft., taking into account the main building and adjacent Garden Center. The same goes for the Sonora Walmart, which is around 130,000 square ft. The Sonora Kohl's store would fall into the size requirements, as it is around 60,000 square ft. The former Mervyns space in Sonora is 62,000 square ft.
The meeting begins at 6pm Tuesday at the Angels Fire House.