Emergency Shelter Proposal Denied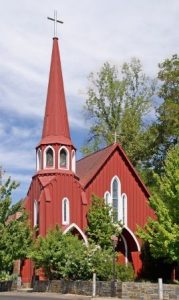 Sonora's historic landmark Red Church

View Photos
Sonora, CA — A request to use a portion of the parish hall behind the historic Sonora Red Church as a cold weather emergency shelter has been denied by the City of Sonora Planning Commission.
Community Development Director Ed Wyllie says, "The Planning Commission conducted their public hearing and had good input from both sides of the issue."
The final vote was 5-0 to deny a request for a conditional use permit to Lighthouse Ministries. Many neighboring residents and Police Chief Mark Stinson had voiced concerns about the proposal. Lighthouse Ministries, a Christian organization that provides services to poor and homeless residents, had been hoping to provide shelter for up to 15 men.
The proposal was denied "without prejudice," meaning that the group could revamp the request and ask the commission to reconsider it at a later time. Lighthouse Ministries also has the option of making an appeal to the City Council.