Burglary Busted By Home Owner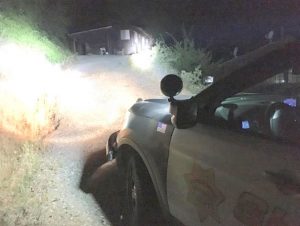 Arrest scene in Jamestown

View Photos
Jamestown, CA – A Jamestown home owner was shocked when he saw a flashlight moving through his house late last night and alerted Tuolumne County Sheriff's Dispatch.
When deputies arrived at the home in the 18000 block of Highway 108 they immediately began to search buildings on the property and discovered a broken window along with an open sliding glass door. Inside the home's living room they found 40-year-old Charles Woodward. During questioning he admitted to rummaging through all of the buildings.
A search of Woodward turned up several stolen items from the home and drug paraphernalia. The homeowner reported that a total of over $2000 worth of items were taken from his property.
Woodward was arrested and booked into the Tuolumne County Jail for burglary as well as multiple outstanding misdemeanor warrants. His bail was set at $50,000.