T.U.D. Board Authorizes Emergency Planning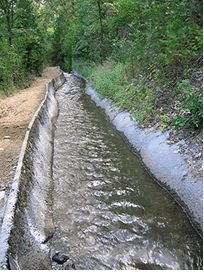 T.U.D. Ditch System

View Photos
Sonora, CA — The T.U.D. Board of Directors has authorized the District Engineer to help develop an Emergency Response Plan to restore water quickly in the event of a failure of the PG&E Main Canal.
Tom Scesa will help develop a user friendly guide that can be followed by district staff during an emergency to reduce the duration and extent of water outages. T.U.D. reports that a key part of the Emergency Response Plan will be developing relationships with other agencies like PG&E, Tuolumne County, CAL Fire, Tuolumne County Fire and others. The decision was made at this week's T.U.D. meeting.
The Board also voted 5-0 to award the contract for consulting services for the Phoenix Lake Preservation and Restoration Project to Horizon Water and Environment out of Oakland. The contract is for around $218,000. T.U.D. is looking at ways to improve water quality and storage capacity in Phoenix Lake.