New 'Glamping' Ground Proposed In Tuolumne County
Groveland, CA – The "Yosemite Under Canvas" project is proposed for the Groveland area and Tuolumne County officials want the public's opinion on the plans.
Described as a "glamping" campground with 99 units all with their own tents provided, the site also offers a mobile kitchen, dining and reception tent, laundry facilities, communal bathrooms and a swimming pool.  As the map below shows, the campground would be located on 80 plus acres at the intersection of Hardin Flat Road and Highway 120 (Big Oak Flat Road), halfway between Buck Meadows and the Big Oak Flat entrance to Yosemite National Park.  The campground will be open from approximately March to October.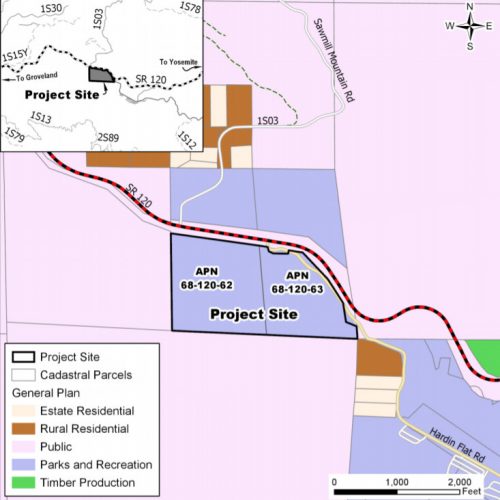 An initial study has already been conducted by Tuolumne County Community Resources Agency (CRA) and next a Notice of Preparation of a draft Environmental Impact Report (EIR) is needed. It will evaluate the project for potential impacts on the environment now and in the future. In order to get feedback on the project, a public review period is underway and runs until 4 p.m. on July 18th.
Written comments can be emailed to Natalie Rizzi at nrizzi@co.tuolumne.ca.us with "Yosemite Under Canvas EIR" as the subject.  Additionally, the public can give their feedback at a Scoping Meeting Scheduled for Thursday, June 27 at 6:00 pm at the Groveland Community Hall located at 18720 Main Street in Groveland.
There are currently no structures or developments on the land. CRA officials relay that the project site is in the Stanislaus National Forest with in a Very High Fire Hazard Severity Zone that includes about 20 acres burned by the 2013 Rim Fire.