CCWD Reaches Butte Fire Agreement With PG&E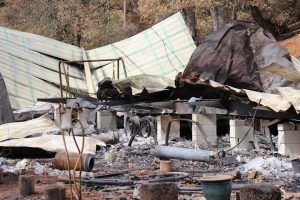 Butte Fire Recovery Debris Removal

View Photo
San Andreas, CA — PG&E has accepted a mediator's proposal of $3 million to resolve the Calaveras County Water District's (CCWD) claims that resulted from the 2015 Butte Fire.
The district stresses that proposal does not affect the claims of any residents, individuals, or businesses also seeking damages from the utility. This agreement is part of a total settlement of $1 billion to be paid to local government entities. CCWD shares that the payment is pursuant to bankruptcy court approval of PG&E's reorganization plan pending in its current Chapter 11 case. The settlement was reached after several days of mediation sessions held in San Francisco that included 14 public entities with various claims from the 2015 Butte Fire, the 2017 North Bay Fires, and the 2018 Camp Fire.
The Butte Fire started Wednesday, September 9th at 2:36 p.m. and burned 70,868 acres. Two people perished in the fire. A total of 921 structures were destroyed including; 549 homes, 368 outbuildings and 4 commercial properties. Another 44 structures were damaged. It took three weeks to fully contain the blaze.