Two Busted In Sonora For Stealing Cash And Credit Cards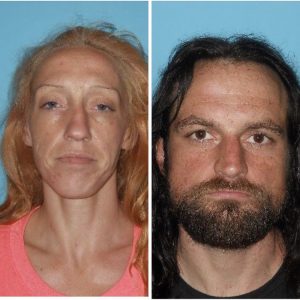 Falisha Lewis and Todd Horan

View Photos
Sonora, CA — The Sonora PD reports that two suspects allegedly stole cash, credit cards and a cell phone while they were at Safeway.
They took the items last week, and then used the stolen credit cards at several locations around the community. The PD received surveillance video of the suspects, from businesses impacted, and identified the pair as 33-year-old Falisha Lewis and 34-year-old Todd Horan, both transients who reside in the community.
Early yesterday morning they were located in the parking lot of the Sonora Walmart by an officer on patrol. Lewis was arrested on charges of burglary, unauthorized use of a card, theft and conspiracy. Horan was charged with conspiracy.