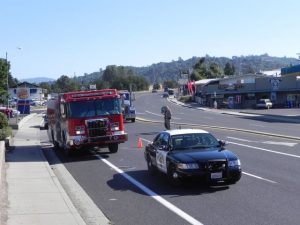 The CHP directs traffic on Mono Way

View Photos
Sonora, CA – A semi truck rolled over a flower bed and near oncoming traffic along Mono Way this morning.
CHP Officer Jeff O'Brien says, "The driver of the truck was parked in the parking lot of the Taco Bell, and according to him, he failed to set his parking brake. He allowed his semi truck to roll out of the parking lot, over the landscaping, and into the number two lane."
Multiple tow trucks are working to remove the truck this morning. The CHP is helping with traffic control. The accident was first reported during the nine o'clock hour. No one was injured.