Summverville Bears Football Begins Tonight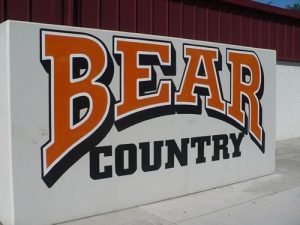 Summerville Bear Country logo

View Photos
The Summerville Bears High School football season begins this evening shortly after 7pm.
Guy Dossi, play-by-play announcer for the Bears, was Thursday's KVML "Newsmaker of the Day".
Dossi has been calling the games for the last five years on KKBN 93.5 FM. This will be his second year partnering with color analyst Rory Anderson.
The Bears are the defending MotherLode League Champions playing two playoff games last year (one of which included their first home playoff win).
The Bears are on the road tonight, playing Mariposa High School. This will be the first time that Mariposa has ever played on their new football field. Up until this year, Mariposa was forced to play on a field at the Mariposa County Fairgrounds.
According to Dossi, Bears Quarterback Zach Roberson may be one of the best high school quarterbacks in California and will be highly scouted by college recruiters this year. Roberson had 38 touchdown completions last season.
All Summerville games are streamed live on mymotherlode.com as well as broadcast on KKBN.
The Summerville Bears 2010 schedule:
Thursday, September 2: vs Mariposa (Mariposa)
Friday, September 10: vs Bradshaw Christian (Home)
Friday, September 17: vs Denair (Denair)
Friday, September 24: vs Castlemont (Bay Area School)
Friday, October 1: vs West Campus (Home)
Friday, October 8: vs Calaveras (Calaveras)
Friday, October 15: vs Amador (Home)
Friday October 22: vs Bret Harte (Bret Harte)
Friday October 29: vs Argonaut (Home)
Friday November 5: vs Linden (Linden)
The "Newsmaker of the Day" is heard each weekday morning on AM 1450 KVML at 6:47, 7:47 and 8:47am.
Written by mark@mlode.com