Sonora To Discuss Economic Development Action Plan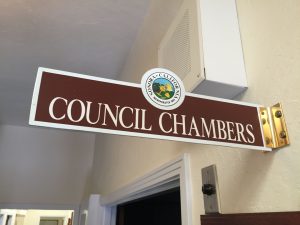 Sonora City Council Chambers

View Photo
Sonora, CA — Following the vote to dissolve the TCEDA, the Sonora City Council will discuss its next steps when it comes creating its own plan for economic development.
At Monday's meeting the city will decide whether to hire the firm Chabin Concepts, Inc. to help identify the preferred path of creating an economic development initiative, or "action plan."
The group would help the city conduct stakeholder interviews, and meetings, to identify the needs of the community. That information would then go to the city council, and the city leaders would collectively decide how to proceed further.
Economic Development is one of the topics that City Administrator Tim Miller will discuss on this weekend's Mother Lode Views radio show. He notes, "From my perspective, and the city's perspective, we need to engage the community, and our local businesses, and work at it from the ground up."
The contract with Chabin would not exceed $7,500. Monday's meeting starts at 5pm at city hall.
We reported earlier that the county is taking a different approach, and has decided to hire an Economic Development Director, possibly before the end of this month. The county discussed the matter in closed session on Monday afternoon, but has not yet announced the appointment of a top candidate.