CA Budget Includes Funding To Study Atmospheric Rivers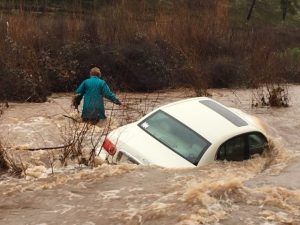 Resident rescued in Calaveras County during Monday Feb 4 2019 storm flooding

View Photo
Sacramento, CA — As part of its water management efforts, California lawmakers will spend just over $9-million to study atmospheric river weather events.
Specifically, the California Department of Water Resources will research how it can better forecast the intensity of these major rainfall events that often result in flooding. The author of the bill, Democratic Senator Bill Dodd of Napa, argues that the state will face increasingly unpredictable weather patterns over the coming years as a result of climate change.
The Department of Water resources indicates that over recent years over half of the state's annual rainfall has come from Atmospheric Rivers, and 90-percent of the flooding.