Two Face Multiple Felonies Stemming From Alleged Road Rage Assault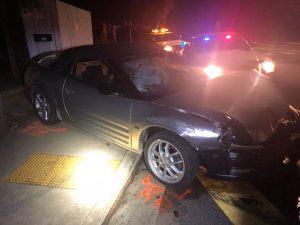 Mitsubishi Eclipse that was driven by Christopher Wilson after alleged road rage incident June 9 2019 SPD Photo

View Photos
Sonora, CA — Two locals face a range of felony charges after an alleged unprovoked road rage attack that included a collision and death threats.
Sonora Police officials say they began receiving 911 calls about related activities resulting in the crash on Sunday night just after 9 p.m. in the area of Washington Street/Highway 49 and Columbia Way across from Sonora High School.
According to the police report, investigators say that 52-year-old Christopher John Wilson of Sonora was driving a Mitsubishi Eclipse and had turned onto the highway. However, in the course of the maneuver he pulled in front of a Dodge pickup, which made the truck driver brake hard to avoid hitting it.
Wilson then allegedly began brake checking the truck while his passenger, 47-year-old Michelle Powell, also of Sonora, leaned out her window and started throwing coins at the pickup with at least two of the projectiles making contact with the truck windshield, causing cracks. Police say the driver of the pickup was not previously acquainted with Wilson.
Officials recount that near Pesce Way, Wilson pulled over, letting the truck pass, but then pulling back behind, he rammed it. When the truck driver pulled over, Wilson pulled alongside it then exited his vehicle with an object in his hand. Officials say that as the suspect approached the truck, he threatened to kill the driver. The driver, who had a passenger in the pickup, drove away, fearing for their lives.
However, police report that Powell exited Wilson's vehicle after which time Wilson took off in his Mitsubishi at a high rate of speed. Catching up to the truck as the two vehicles neared Sonora High, Wilson attempted to pass the pickup while driving south in the northbound lane. In doing so, he lost control of the Eclipse, which ran into a concrete wall and a residential wooden fence. A nearby surveillance camera caught the collision on video. Powell, who heard the crash, made her way to the scene.
Officers arrested Wilson for assault with a deadly weapon, in this case, his vehicle, and making criminal threats with the intent to terrorize. They also charged Powell for throwing objects at a moving vehicle. At the Tuolumne County Jail, they respectively received bonds of $40,000 and $20,000.