Burning To Protect Giant Sequoias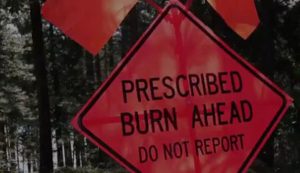 Prescribed burn sign

View Photo
Arnold, CA – No need to report any smoke visible in the skies over Calaveras Big Trees State Park next week as a prescribed burn will be ignited in that area.
CAL Fire in conjunction with California State Parks anticipates that the burn will last one day. The plan is to set ablaze 41-acres in the Big Tree Creek segment outlined in purple below.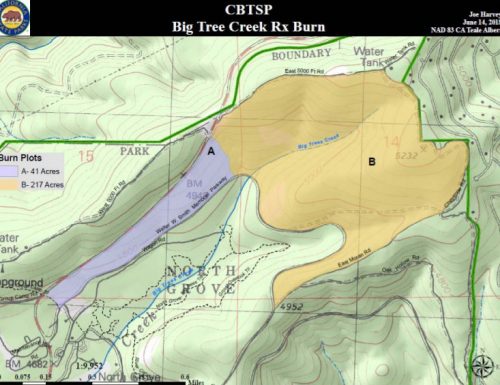 The same area was previously thinned, which resulted in a reduced fuel load and will allow for a safer and more controllable burn this time, according to CAL Fire. The prescribed burn is slated to start on Thursday, June 13 or Friday, June 14, weather, fuels and air quality permitting. Besides reducing ground fuels, fire officials advise that the burn will provide protection to the North Grove of giant sequoias and the Big Trees Village subdivision.
Smoke may be visible along Highway 4 and surrounding communities including Dorrington, Big Trees Village, White Pines, Blue Lake Spring and Arnold.  While the highway and Walter W. Smith Parkway will remain open during the ignition, motorists could face short delays due to smoke or other hazards, according to CAL Fire. Travelers are asked to obey all warning signs and slow down where ever fire personnel or equipment are working.
The prescribed burn is being funded through Propositions 84 and a grant from the Sierra Nevada Conservancy.