Large Indoor Marijuana Bust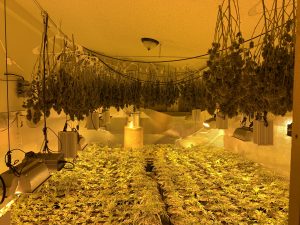 Illegal indoor pot grow in Jenny Lind processed marijuana

View Photos
Jenny Lind, CA – A raid on a home in Jenny Lind netted nearly 1,300 plants and 70 pounds of processed pot and one arrest.
The search took place on Wednesday at a home in the 8000 blocks of Pardini Place. The entire residence and detached garage had been completely converted into several individual marijuana growing rooms, according to Calaveras County Sheriff's Officials.
A total of 1,264 marijuana plants and 68.5 pounds of processed marijuana were seized.
Investigators discovered 37-year-old Xiaolin Zheng of Jenny Lind on the property. He was arrested without incident. Zheng was charged with illegal marijuana cultivation, maintaining a drug house and sales. His bail was set at $100,000.00.
Officials from the Calaveras County Code Enforcement determined the residence and garage were unsafe due to unpermitted and hazardous electrical and structures changes. Sheriff's officials remind the public that if you suspect and illegal grow contact the Sheriff's Marijuana Tip Line at (209) 754-6870.