Calaveras Habitat For Humanity Recognized By Bigelow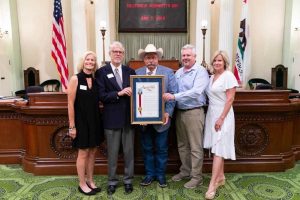 Frank Bigelow recognizes Habitat For Humanity Calaveras

View Photo
Sacramento, CA — Habitat For Humanity Calaveras has been named the "Nonprofit of the Year" for the 5th Assembly District in California.
Nonprofits that go above and beyond are selected annually from each of the districts and recognized at a ceremony in Sacramento.
Speaking about his pick, District Five Assemblyman Frank Bigelow says, "Our most precious moments happen at home with our families, and I can think of nothing more generous than providing a safe place to come home to."
The organization requires recipients to provide at least 400 hours in sweat equity towards their homes, along with repayment of an affordable mortgage. The group has a plan to build an additional 100 homes in Angels Camp on donated property.
"Habitat for Humanity Calaveras' Executive Director, Scott Behiel, and Board President, Todd Peterson, have been incredibly generous by providing an invaluable asset to the people who call Calaveras County Home," Bigelow adds. "Habitat for Humanity Calaveras is a real example of a community coming together, caring about one another, and selflessly improving the lives of those around them."
California nonprofits collectively represent the fourth largest industry in the state, employing nearly one million people.