Railtown's Steam Engine Number #3 Set To Return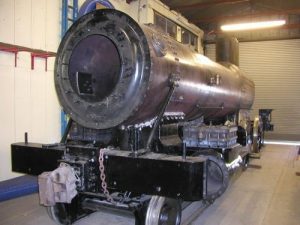 Railtown 1897

View Photos
Widely known as the "movie star locomotive," the famed Sierra No. 3 is set to ride the rails again at Railtown 1897 State Historic Park (SHP) in Jamestown this Fourth of July weekend.
Kathy Daigle, Interm Executive Director for the California State Railroad Museum Foundation, was Friday's KVML "Newsmaker of the Day".
The 1891 vintage steam locomotive is returning to service following an extensive three year restoration effort costing one and a half million dollars-and the public is invited to its debut.
A celebration is planned for Saturday, July 3, and Sunday, July 4, featuring memorable steam train rides along with live entertainment; costumed characters; food booths; movie highlights featuring Sierra No. 3; and much more.
In addition to its Hollywood film credentials, Sierra No. 3 is one of the oldest operating steam locomotives in the United States. After its official debut, Sierra No. 3 will resume its rightful place as the starring attraction at Railtown 1897 SHP.
The festivities will begin at 9am sharp on Saturday, July 3rd, when the Sonora and Columbia's historic fire pumpers will greet the locomotive's return to service with a dramatic display of waterworks, as the locomotive bursts through a paper banner in the historic tradition. Immediately afterwards, at 9:30, the Sierra #3 will depart the station for the first run of the day.
The locomotive's restoration was achieved through a partnership between the California State Railroad Museum Foundation and California State Parks, and was generously supported by a California Cultural and Historical Endowment (CCHE) grant, the Irving J. Symons Foundation for Tuolumne County, the Sonora Area Foundation, a California State Parks Foundation grant, the Teichert Foundation, the DuPont Corporation, and numerous contributions from members of the California State Railroad Museum and many other community supporters.
Remote parking will be available throughout the weekend from the Jamestown Elementary School, with a free horse-drawn shuttle to the park. Musicians, including Ron DeLacy, Cactus Bob and Prairie Flower, Black Irish, Dick "Tater" Learned, Dave Rainwater, Roger Kirby, Music First and the Black Irish Band will play throughout the weekend. Local community non-profits will provide food, beverages, beer and wine for sale. Two steam locomotives will operate on Saturday and Sunday, bringing to life the bustle and noise of the historic shop facilities in a unique way.
Special excursion trains pulled by Sierra No. 3 will continue through October 2010 only on the first weekend of each month. For more information, please call 209-984-3953 or visit www.railtown1897.org.
The "Newsmaker of the Day" is heard each weekday morning on AM 1450 KVML at 6:47, 7:47 and 8:47am.
Written by mark@mlode.com