Suspect Throws Dog Out Window And Arrested Following Pursuit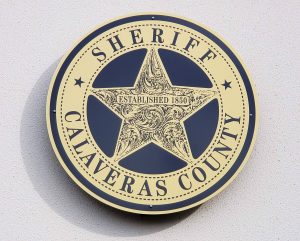 Calaveras County Sheriff Department building logo

View Photo
Sonora, CA — A man wanted for siphoning gas in the Arnold area was arrested following a high speed chase.
The Calaveras County Sheriff's Office reports that a deputy tried to pull over 20-year-old Skyler Gregory of Arnold for a minor traffic infraction on Mandel Road near White Pines. He failed to yield and then allegedly accelerated and fled westbound on Highway 4, forcing several cars off the roadway.
Sheriff's Office spokesperson, Sgt. Greg Stark, says, "As the suspect's vehicle turned onto Avery Sheep Ranch Road, the driver threw a dog out the driver's window. The dog was able to scurry off the road. For public safety concerns, the pursuit was terminated."
The pursuit occurred around 9:30am yesterday, and then at 1pm, Gregory's car was located down a ravine along San Domingo Road in Murphys. He was located nearby and arrested. Inside the vehicle, deputies located suspected methamphetamine, a glass smoking pipe, and items used to siphon gas. The sheriff's office reports that he admitted to siphoning gas in the Arnold area. Click here to view an earlier story regarding siphoning crimes in that area.