Tuolumne County Supervisors Will Review Proposed Budget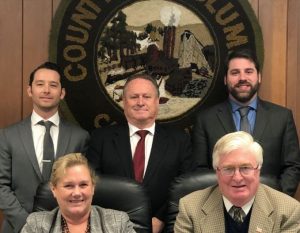 Tuolumne County Supervisors

View Photo
Sonora, CA — The Tuolumne County Board of Supervisors must pass a new spending plan by the end of the month, and Tuesday the board will give staff direction on it.
In addition, the agenda item indicates that the board will be asked to approve any budgetary related layoffs. No specific details regarding the budget are being released by the county ahead of the meeting, and the latest information will be known when it comes up for discussion at 9:30am. Then, formal passage of the budget is anticipated to come in two weeks, during a meeting on June 18.
On Mother Lode Views this past weekend, CAO Tracie Riggs stated, "Ever since I came to the county in 2006, I've never worked through a budget year that wasn't tough…this year will be no different."
Later in tomorrow's meeting, at 11am, the board will hear a presentation regarding the latest developments surrounding the National Disaster Resiliency Competition projects. The county has been working to develop resiliency centers in both Tuolumne and Groveland. There is also a plan to construct a biomass facility.
Other items on the agenda include approving June 15 as Elder Abuse Day, awarding a Certificate in Recognition in honor of the late Angela Guissi Brown, and formally accepting a resolution from Butte County thanking Tuolumne County for assistance during last year's Camp Fire.
Tuesday's meeting begins at 9am.