Caltrans Road Work Planned First Week Of June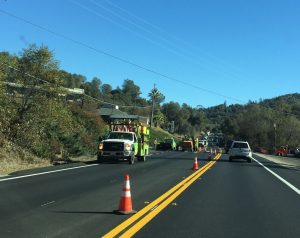 Traffic backup between Jamestown and Sonora due to Caltrans work Dec 7 2017

View Photo
Sonora, CA – Caltrans road work will impact travelers on Mother Lode Highways this week.
On Hwy 108 at Mackey Ranch Road, a mile before Chicken ranch Road, survey work will close one lane of the highway in the evening hours from 9 PM to 6 AM.  The survey began Sunday evening and will conclude Friday morning. During the day, from 8 AM to 4 PM both sides of the shoulder will be closed in that area as well.
On Highway 108 from Clarks Fork Road to Kennedy Meadows Road tree work is planned that will keep the shoulder closed through the summer.
On Highway 49 in the Mokelumne Hill area to Big Bar Road tree work Monday through Thursday will limit traffic to one lane. The work is scheduled between 9 AM and 3 PM
North of Sonora on Hwy 49 at Columbia Way utility work will close both sides of the road shoulder beginning Tuesday at 8 AM. The work will conclude at 4:30 PM and is planned to continue those same hours on Wednesday as well.
On Highway 4 Caltrans crews will be pouring concrete from Upper Moran Road to the Big Trees Park Entrance. The work began Monday at 6 AM and will wrap up at 6 PM and will continue through Friday. Traffic will be limited to one lane and cause delays of 10 minutes.
The two miles between Tanner Lane and Upper Utica Powerhouse Road on HWY 4 will also limit traffic to one-lane for drainage cleaning and inspections. The work is scheduled 8 AM to 3:30 PM Tuesday through Thursday. Also on HWY 4, from Poole Station Road to Appaloosa Road, the shoulders on both sides will be closed for shoulder work Tuesday and Wednesday from 8:30 AM to 3 PM.
For 43 miles on HWY 4 from Old Highway Connector to the Calaveras/Alpine County Line a moving closure for road striping may cause 10-minute delays.
On Wednesday, in Calaveras County, travelers can expect 10-minute delays on Highway 26 from HWY 49 in Mokelumne Hill to the Calaveras/Amador County Lane. The moving closure is for road striping Monday through Friday from 6AM to 6 PM.
For just over a three mile stretch along Highway 26 in the Glencoe area Caltrans crews will be paving the road with one-way traffic control between Deardorff Road and Wood House Mine Road 7 AM to 6 PM.
On Highway 120 from Tulloch Road Crossover to Rushing Hill Lookout Road one of the two lanes will be closed for paving through Friday. The work began at 9 PM on Sunday, wrapping up at 6 AM Monday and will continue through Friday. On HWY 120 in the Groveland area from Ferretti Road to Hopper Street shoulder work continues to keep the shoulder closed. The work is 6:30 AM to 4:30 PM.
Caltrans asks motorists to obey signage and flaggers while slowing down around crews and equipment in the cone zones.