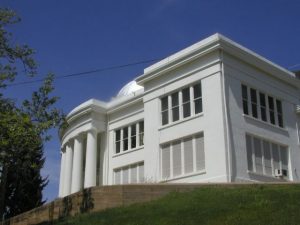 Sonora Dome

View Photos
Sonora, CA — Sonora High is planning to move its administrative offices out of the historic Dome on Barretta Street.
The District Office confirms that Superintendent Dr. Mike McCoy made the recommendation at this week's Board of Trustees meeting.
The district believes that moving the five employees out of building will save approximately $20,000 a year in energy costs. The District is looking to relocate staff members to a building behind Sonora High School.
The Dome has not been used by students since 1967, when it was found to be out of compliance with the Field Act, related earthquake safety. It also has issues related to the American's With Disabilities Act.
The district plans to stay in the Dome until at least the end of the school year, and will still continue to maintain the structure.
Written by bjhansen@mlode.com.