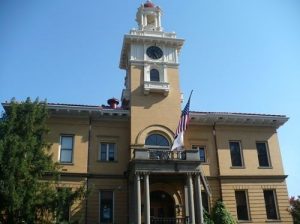 Tuolumne County Courthouse

View Photos
Sonora, CA — It would appear there is a change in the original plan for which facility will come first for the proposed Law and Justice Center.
Supervisor Dick Pland states that negotiations are already well underway for a new Superior Court building to be constructed on the site east of the Old Wards Ferry Rd. overpass.
Pland adds that Tuolumne County is either at or near the top of the list for need and 100 percent state funding. The state has determined the Tuolumne County courthouse system is not contained within a single structure thereby causing potential security problems.
It has been thought that the Juvenile Detention Facility would be the first structure but the County still has to determine how to finance $5 million of the total price tag of $21 million. The $16 million will be provided the county through a state grant.
Following the Superior Court and the Juvenile Detention Center will be a new jail complex.
Written by bill.johnson@mlode.com