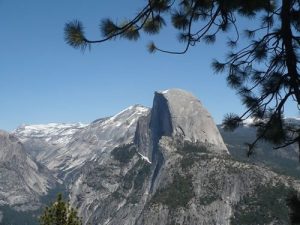 Yosemite - Half Dome From Glacier Point

View Photos
Pt. Reyes Station, CA — A veteran of 28 years in the National Park Service will take over the reigns of Yosemite National Park in March.
Currently the superintendent of Pt. Reyes National Seashore in Marin County, Neubacher is excited about the opportunity to move to Yosemite which encompasses 761,000 acres.
"It's a fantastic opportunity for me and really an honor for me to be the superintendent at Yosemite. I grew up in California and I'm a native of California and I came to Yosemite as a child. We camped there along the Merced River and I've been to Yosemite hundreds of times so for me to be in one of the greatest parks in the world is just overwhelming so I'm very honored to come to Yosemite National Park."
While excited about the opportunity Neubacher admits there are a number of challenges because everything that is done has to be done just right because it's Yosemite. He lists the completion of the Merced River Plan as a key element in maintaining the Park's reputation as one of the finest in the world.
Neubacher will be working with a full time staff of over 500 people and a budget of approximately $28 million.
Written by bill.johnson@mlode.com