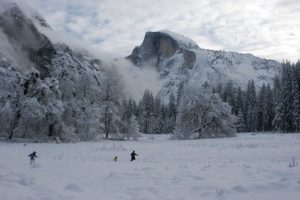 Snow in Yosemite

View Photos
Yosemite National Park, CA — Until further notice Yosemite National Park is closed.
Snow, ice and fallen trees have closed Highways 41 and 120 while fallen trees have closed Hwy 140.
According to Ranger Kari Cobb assessments will be made throughout the day to see if any of the entrances can be reopened.
Overnight Yosemite Valley received several feet of snow. Still more snow fell in the higher elevations.
The only power outage in the area is in Wawona.
Written by bill.johnson@mlode.com