Yosemite Attendance Up Again In 2011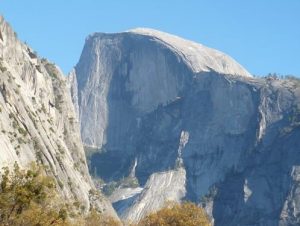 Yosemite - Half Dome

View Photos
Yosemite Valley, CA– With sunny days and a lack of snowfall this year, it's been an unusual winter at Yosemite National Park.
Park Ranger Scott Gediman says while December is usually one of the slowest months for visitors, the dry weather has kept roads open and visitors flocking to see the sights.
"We've got people ice skating on Tenaya Lake and hiking in Tuolumne Meadows, and enjoying the high country which is very unusual for the week of Christmas," said Gediman. "Tioga Road and Glacier Point Road are also open. It's a great time to visit Yosemite."
The park had over four million visitors in 2010 and Gediman says he expects a similar 2011.
"This year through November, we're at 3,965,000," he said. "With just about 100,000 more averaged in December, we're going to go over four million again for this year, which is great."
Last year was the first time Yosemite had seen four million visitors since 1996.