Latest Addition At Columbia College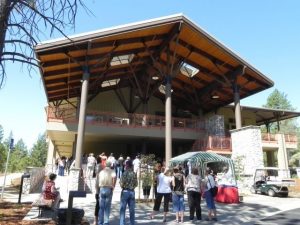 Columbia College's Sugar Pine Building

View Photos
Sonora, CA– It's now one of the largest buildings on campus at Columbia College.
The new science and natural resources building, Sugar Pine, made its debut this afternoon at a ribbon cutting ceremony.
"It's amazing," said Columbia College President Dr. Dennis Gervin. "And really an inspiring point to see what the voters have brought forward. It's good to see that things like this can still happen in challenging times. So, it's exciting for many different aspects."
The $22.4 million facility was funded by Measure E, which was passed in November 2004 by voters in the area served by the Yosemite Community College District, of which Columbia College is a part.
The new two story building is designed for 21,000 sq. ft. of interior space, and a total of 33,661 sq. ft. when including all exterior covered areas. It will provide students with classrooms, labs, offices, and study rooms for biology, chemistry, physics, anatomy, earth sciences, geology, forestry, and GIS (geographic information systems).
The Sugar Pine Building is also environmentally friendly. Among its energy conservation features are geothermal cooling for the cadaver lab, solar electric power, high efficiency electrical transformers, high efficiency heating and air-conditioning systems, solar water heating, sky lights, and a hands-on energy metering system to measure energy efficiencies.
"I'm absolutely thrilled to have this new facility" said YCCD Chancellor Dr. Joan Smith. "This is truly a state of the art science building. This comes close to any university science building that there is."
Written by tina.falco@mlode.com