Abandoned Mine Project Moves Forward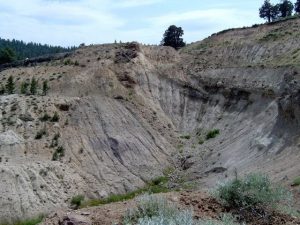 Juniper Uranium Mine

View Photos
Sonora, CA– An abandoned mine project is about to get underway in the Stanislaus National Forest.
Forest Spokesperson Jerry Snyder says thanks to federal funding from the Comprehensive Environmental Response, Comprehensive and Liability Act, also known as the Superfund, work can now begin on the Juniper Uranium Mine.
"It is an open pit mine way up at about 8,500 feet on the Summit Ranger District of the Stanislaus National Forest," said Snyder. "That mine was worked back in the mid 50's through the mid 60's. We've had it closed now for about eight years as we try to remediate the hazards that are basically the waste piles that were dug up and put off to the side."
Snyder says work on the $1,533,524 project will begin tomorrow and continue as late as November 23rd, weather permitting. At that point, remediation activities will be suspended for the winter and not pick up again until the snow melts and the roads are clear next year.
"We've been able now to come up with a design plan to put the soils back in the ground and then cover the earth with new native plants," said Snyder. "We'll also have some drainage that will end in a pond which is a sediment catch basin that will be monitored and cleaned out every year. We'll see how long it takes to get back to its natural condition."
Project completion is expected in the fall of 2012.
Written by tina.falco@mlode.com