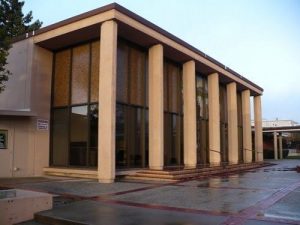 Calaveras County Government Center

View Photos
San Andreas, CA — The Calaveras County Supervisors are scheduled to approve a formal contract for construction of the new jail.
The Board will vote on Tuesday whether to award a $40 million contract to Flintco Pacific, Inc. The company is based out of Oklahoma, but has an operating office in Sacramento. Nine companies submitted bids, and Flintco's was the most competitive. A bid ranking committee was comprised of CAO Jeanne Boyce, Sheriff Gary Kuntz, Captain Ed Ballard, Public Works Director Tom Garcia and Project Director Doug Evans.
Local tax dollars and State AB900 funding will pay for construction of the jail, which will be located near the Government Center in San Andreas.

Construction of access roads and utility work is already well underway. The total project cost will be around $56 million. The jail is expected to be completed in mid-to-late 2013.

Tuesday's meeting begins at 9am at the Government Center in San Andreas.