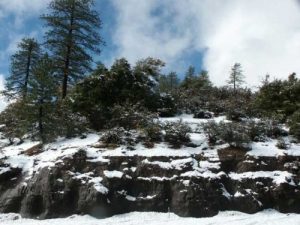 Snow In Sierra

View Photos
The final Sierra Nevada Snowpack Survey of the year was carried out this morning.
Department of Water Resources Spokesperson Ted Thomas says the snowpack water content is 144 percent of the full seasonal average. "We have a very deep and very wet snowpack for this time of year," says Thomas. "The snowpack is slowly melting into our streams and reservoirs which should give us an ample water supply as we move into the long hot summer."
The northern Sierra is 159 percent of average, the central Sierra is 144 percent and the southern Sierra is 127 percent. Asked if it is rare to have two straight years with such heavy snowpack, Thomas says, "Nothing is unique in California. The fact that we experience everything in California cautions us that we could go from wet to dry, or vise-versa, in a very short time. We always need to be conscious of water conservation."
Governor Schwarzenegger had declared a drought in California from 2007-09.