Brown Halts Budget Negotiations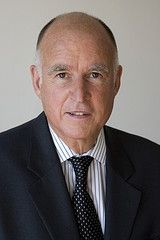 Jerry Brown

View Photos
Governor Jerry Brown was Tuesday's KVML "Newsmaker of the Day" discussing his decision to halt budget negotiations. Here are his words:


"I stopped the discussions that I had been conducting with various members of the Republican party regarding our state's massive deficit.
The budget plan that I put forth is balanced between deep cuts and extensions of currently existing taxes and I believe it is in the best interest of California. Under our constitution, however, two Republicans from the Assembly and two from the Senate must agree before this matter can be put to the people.
Each and every Republican legislator I've spoken to believes that voters should not have this right to vote unless I agree to an ever changing list of collateral demands.
Let me be clear: I support pension reform, regulatory reform and a spending cap and offered specific and detailed proposals for each of these during our discussions. While we made significant progress on these reform issues, the Republicans continued to insist on including demands that would materially undermine any semblance of a balanced budget. In fact, they sought to worsen the state's problem by creating a $4 billion hole in the budget.
One glaring example is the taxation of multinational corporations. My budget plan requires that gigantic corporations be treated the same as individual taxpayers and not be allowed to choose their preferred tax rate.
This is the so-called single sales factor. The Republicans demand that out-of-state corporations that keep jobs out of California be given a billion dollar tax break that will come from our schoolchildren, public safety and our universities. This I am not willing to do.
Much is at stake, and in the coming weeks I will focus my efforts on speaking directly to Californians and coming up with honest and real solutions to our budget crisis."
The "Newsmaker of the Day" is heard each weekday morning on AM 1450 KVML at 6:47, 7:47 and 8:47am.
Written by mark@mlode.com