Ruby The African Elephant Dies At Sancutary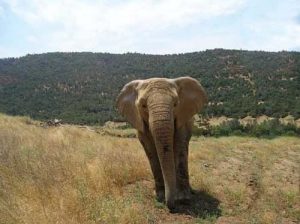 PAWS logo

View Photos
San Andreas, CA– Ruby, an African elephant who lived at the PAWS sanctuary in San Andreas has died. She was 50 years old.
After years of lobbying from animal rights activists, the Los Angeles Zoo delivered Ruby to the Performing Animal Welfare Society (PAWS), in 2007. Entertainer Bob Barker donated $300,000 to help pay Ruby's sanctuary expenses. According to the Associated Press, Ruby spent 20 years at the Los Angeles Zoo. She had also performed with Circus Vargas.
After being transferred to PAWS, a 2,300-acre sanctuary, Ruby lived with Mara and Lulu, PAWS' three other African elephants. Within days, Ruby had socialized with the other elephants and became an important member of the group, roaming the hills with her new friends. Ruby became the respected and beloved matriarch of the group over the next few years.
Ruby's veterinarian, Dr, Jackie Gai, PAWS director, Pat Derby, and the entire elephant staff were with her when she passed. A necropsy is being performed at the University of California at Davis, and final results are still pending. Ruby was one of the oldest African elephants in captivity.
Written by tina.falco@mlode.com