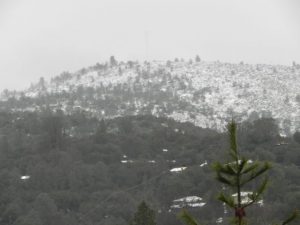 Snow on Sonora's Foothills

View Photos
The Winter Storm Warning for the Sierra Nevada has been extended through 5 a.m. Monday.
One to two feet of additional snow accumulation is possible above 3000 through 4000 feet. Two to four feet of snow is likely above 7000 feet.
Winds of fifteen to thirty mph are also expected with gusts along the crest ranging from fifty through sixty-five mph.
The National Weather Service has issued a Flood Watch for the Motherlode through Sunday afternoon.

One to three inches of rain is expected through Sunday.

Local flooding is expected as well as rapid rises on area streams and creeks along with rock, dirt or mudslides.
A High Wind Warning has also been issued for the Motherlode through 9 a.m. Sunday morning.
Winds of twenty to forty mph are expected with gusts ranging from forty-five to sixty mph.
The combination of widespread rain, mountain snow and high winds on Sunday could bring the possiblilty of downed trees, limbs and widespread power outages. This will create hazardous travel conditions for small cars and high profile vehicles. Loose objects should be tied down or brought inside.
For road conditions, click /traffic
Written by mark@mlode.com