Snowpack Well Above Average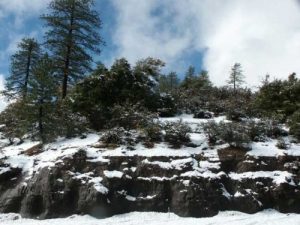 Snow In Sierra

View Photos
Sacramento, CA– Thanks to recent storms making up for a dry January, California's snowpack has remained above average.
The state Department of Water Resources conducted its third Sierra snowpack survey of the season this morning near Lake Tahoe.
Statewide, the snowpack water content is 124 percent of normal for the date, and 109 percent of the April 1 seasonal average.
The snowpack survey shows that the Northern Sierra is at 115 percent, the Central which includes Tuolumne and Calaveras Counties, is 121 percent, and the Southern Sierra is 140 percent.
"Once again, we're very pleased with what we have in the bank", said DWR Spokesperson Ted Thomas. "It's important because the snowpack as it melts off in the spring and early summer, actually supplies approximately a third of the water we use in California. So as we approach the peak demand period in this coming summer, we are in very good shape at this point."
The DWR estimates it will be able to deliver 60 percent of the water requested.
Written by tina.falco@mlode.com