Yosemite Hotel Closing For Renovations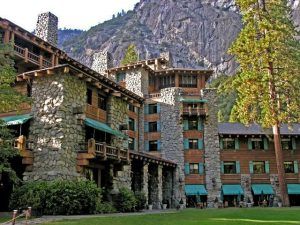 Majestic Hotel, South Lawn

View Photos
Yosemite Valley, CA– The historic Ahwahnee Hotel in Yosemite National Park will close for three weeks while completing an extensive remodel and safety upgrade.
Park rangers say the Ahwahnee will close from February 22 through March 17 for a complete renovation.
"We are shutting the hotel down to do work on the fire detection alarm and suppression system throughout the hotel, said Park Ranger Kari Cobb. "Mostly this will include work in guest rooms, restaurants, in the shops, and most of the public spaces of the hotel. This closure is also going to be the first major renovation to the electricity system within the building since the building was built eighty years ago."
Other work includes a new kitchen floor, fresh drapes and bed linens, new carpets, painting of the guest rooms and public areas, and renovations of many of the artifacts in the hotel.
"One important thing is that we will actually have a historical architect while the renovations are occurring so that the Ahwahnee will hold that historic, rustic feeling that visitors come to know and expect from the Ahwahnee Hotel," said Cobb.
The National Park Service says the remodel will cost about $8 million, and is funded through a special fee charged on products and services sold in the park. Guest prices are not expected to rise as a result.
The Ahwahnee Hotel, completed in 1927, is a registered National Historic Landmark.
Written by tina.falco@mlode.com