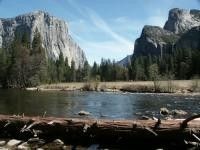 Yosemite National Park

View Photos
Yosemite, CA – Yosemite National Park Officials are now releasing the name of the pilot. He is Nicol Wilson of Santa Barbara. Park Officials say he is in his late 60's. He took off alone from Santa Barbara headed towards the Mammoth Lake Airport on Monday. When he didn't arrive that afternoon his family reported him missing. The search started Tuesday morning where the plane went off the radar near the North Dome which is between 8,000 to 10,000 feet. Snow has made the area inaccessible by vehicle and foot and has hampered the search efforts. Today's search has been from the air.
Ranger Kari Cobb says, "We don't know what happened to the plane. We don't know where it is, but today's weather is very good. Visibility is very good so we are hoping to find some sign of the plane. The search will continue until it is too dark to see or until they find something. If there is nothing that is spotted today, then they will resume the search tomorrow."
Cobb says there are nearly 30 personnel involved in the search. Several aircraft are being used including a helicopter from the California Highway Patrol and two fixed-wing planes piloted by the Civil Air Patrol.
Update 6 p.m.: Cobb reports the air search was called off at 5 p.m. She says crews did not see any sign of the plane or Wilson. Cobb says they may not be able to continue the search tomorrow as bad weather could move into the area.