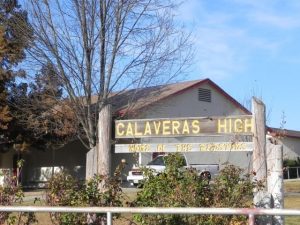 Calaveras High School

View Photos
Calaveras County, CA – A new funding proposal could let the curtain go up on Calaveras High School's 500 seat theater project. In September, Calaveras Unified School District Board of Trustees voted unanimously to halt refinancing a district loan to help pay for some of the $5.4 million dollar performing arts center. The board had also concerns regarding future costs to maintain the center. Now, a financial proposal has emerged that could give new life to the project.

Calaveras Unified Superintendent Mark Campbell says, "We're paying off our Certificates of Participation which allowed us to build Jenny Lind Elementary. In that payment plan, there is a reserve of $480,000 to pay the very last payment in 2025. Kind of like a last month's rent deposit. We may be able to access that money and borrow against it. If we can do that, then we're able to use that money to bridge the financial gap and build the current center. It would just mean that in 2025 we would have to find the money out of our general fund to make that last payment."

The board has set up a January 19th study session giving Campbell a month to gather information on the financial proposal and possible maintenance funding. Campbell says also up for discussion will be the board's options. Those include sticking with the current plan, starting from scratch on a new less expensive building or using the money for other projects.
Most of the money for the center is coming from a voter approved bond and the state kicking in more than a million dollars. However, that state money is contingent on the district sticking with the original building design.
Campbell says the board is expected to make a final decision on the project at its January 22nd meeting.